Meet Ash, Breast Cancer Care Nurse at Mater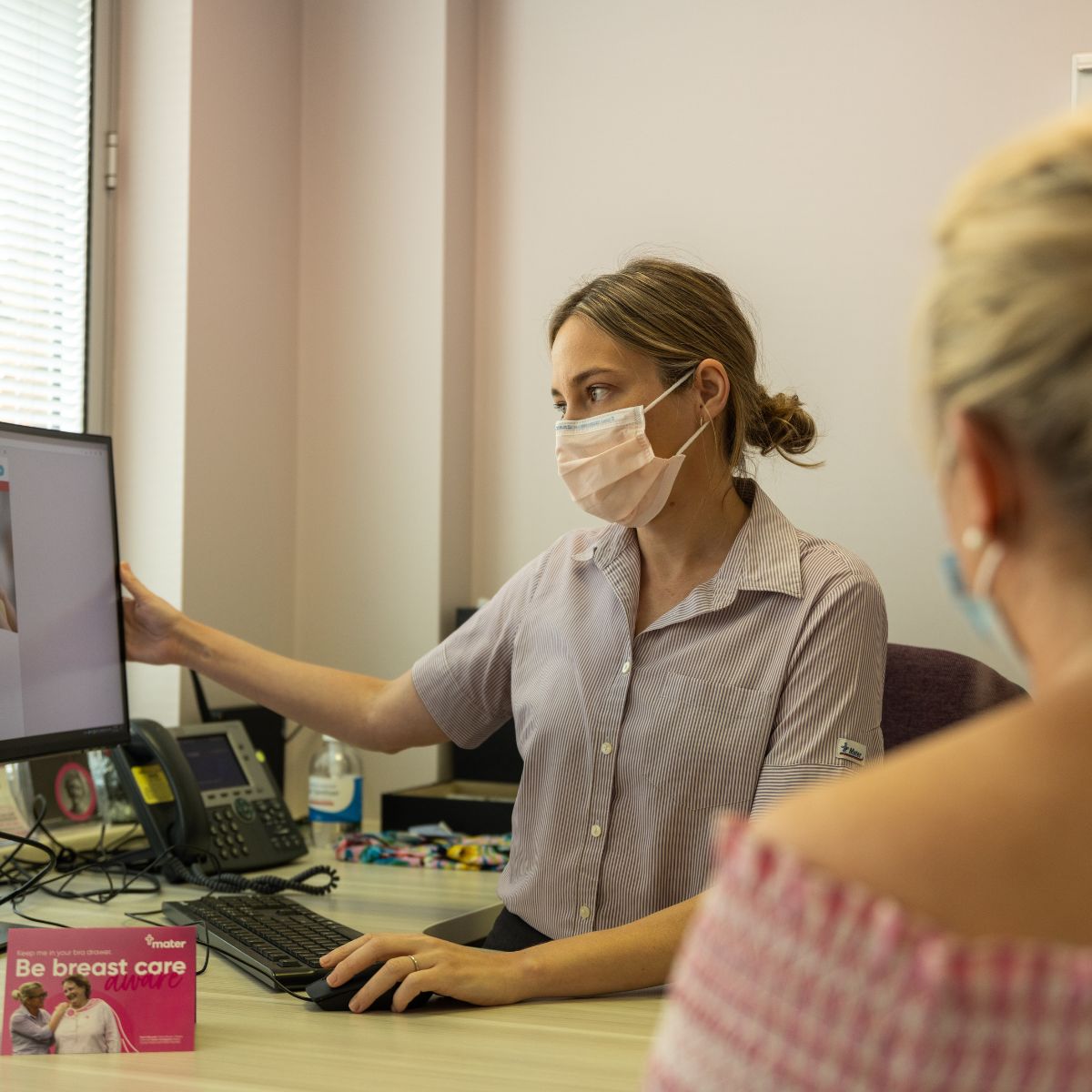 For Mater specialist breast care nurse, Ash Mondolo, this is personal.
The Sea of Pink that moves to make change at International Women's Day Fun Run isn't just a groundswell of anonymous faces. It's so, so much more than that.
It's comprised of inspirational women she knows and has cared for on a deep, personal level –her patients fighting breast cancer. They are former, current and future patients. All with the unique, individual and personal fears, hopes, dreams and practicalities that come with each cancer journey for patients and loved ones.
Women like Ash's own mum who first inspired Ash to get involved in Fun Run as a Mater nurse, years before she steered her career toward breast care specialty.
"Fun Run is huge for me... it's such an emotional day," Ash said. "I see so many of my patients and their families. It's very powerful."
Every year when I look around at the Sea of Pink, I get so encouraged, because it feels like I've got thousands and thousands of people on my team helping to support these incredible women!
"The beautiful thing about breast cancer nursing is I have continuity of care for my patients, so I meet someone when they're initially diagnosed with breast cancer and then I support them throughout the continuum of their breast cancer journey. I get to really know these women and I get to know them and look after them and treat them and be there for up to five years.
"These women, they have these grueling surgeries, toxic treatments come out the other end and then say, "Oh, what can we do to help?" So it's pretty cool. It's pretty powerful seeing the drive.
They are brave, and so often I know that they're going to get through this disease – not because it's going to be easy – but because of all the wonderful specialists who help treat our patients. Fundraising coming in from things like Fun Run help our clinical team and researchers improve the lives of women with breast cancer."

The 1 in 7 women diagnosed with breast cancer in their lifetime aren't numbers or statistics. They are real lives. Real women. It's personal.
"We have a duty of care -these women are coming to Mater because it's a great supportive hospital and we have a duty of care to talk prevention and awareness, plus the fundraising part's really, really important," Ash said.
"Last year breast cancer became the most diagnosed cancer worldwide and it's affecting our daughters, our sisters, our wives, our cousins, our aunties –almost everyone knows someone who's been through it.

"I meet women sometimes on the hardest days of their lives. Breast cancer never comes at a very convenient time or it's often a diagnosis of breast cancer will come with huge shock and it completely upends their lives -whether they're mums of young children or women who are towards the end of their career and due to retire and are planning big holidays.
"Breast cancer always comes with shock and fear for the unknown."
Your Fun Run involvement funds the advances Ash and her colleagues see everyday.
Awareness. Early detection. Research. Mater's ability to care for the person, not just the patient, with a nurse-led "survivorship" program targeting holistic compassionate care and spearheaded by the free, personalised support services funded by Fun Run participants.
"Mater Foundation supports Mater Research projects," Ash explains.
"We're able to give funding to our really, really clever researchers who are looking at tissue biopsies of women who have genetic faults, giving them chemotherapy and then reassessing their tissue. So we've got a tissue bank at Mater which is really cool.
"There's quite a bit of nurse-led research. We are looking at survivorship -at what is the new normal. We're kind of looking at how we can look after the survivors because we have a duty of care to ensure that then they're okay out there.
"What Mater Foundation has recently done was gifted money into supporting survivorship, and also exercise during breast cancer treatment. We've kind of looked at models of care where we can look after them during chemotherapy and treatment and then help them get these women back into the community.
"Funding equals research."
Hear more about Ash's story